---
AIM Support - (Site Map) AIM > > AIM v4.3.02 and above.
AIM now supports automatic updating. Users wishing to check they have the most current version of AIM should navigate to the admin and support ribbon and select the check for updates icon.
During the update process it will be necessary to close AIM, please ensure you save your work.
User of versions of AIM lower than v4.3.02 can check for updates by going to the maintenance option menu and selecting check for updates
This brings up the check for updates form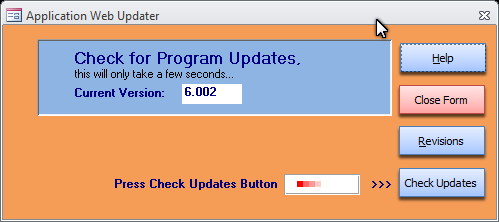 Click on the check update buttons
The form will advice the status of your program against the latest version.
Note: Users of our old RT7 version who wish to upgrade to our new RT10 version should download and install the new version and contact us for support in moving their data across into the new version.
DO NOT UNINSTALL YOUR RT7 VERSION UNTIL YOUR DATA HAS BEEN SUCCESSFULLY TRANSFERRED OVER TO THE NEW RT10 VERSION.
---
On Safe Lines - Help file v9.000 : Copyright © 2020 On Safe Lines QHSE Software
---
FREEWARE QHSE Business Software
click <here> to learn more...

---