Software Un-install Procedure (win 10)
QHSE Business Software
Very Affordable Small Business Software
All our application come with a standard windows un-install / remove procedure that can be accessed in the normal manner via the windows control panel.

Example of TIRA un-install / remove procedure.

Note. This procedure will be similar for all our applications.

Firstly TIRA installs its file to the following directory (for a default installation);

Any subsequent backup of your data you may make will be stored under the parent directory;



To un-install TIRA;

> Windows 10

Search for "add or remove" in the Windows Search box (bottom right of your screen) and select Add or remove programs.

Enter the first few letter of the applications full name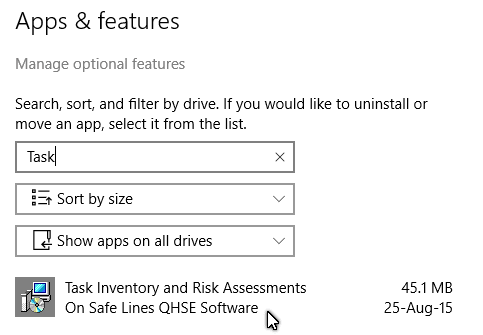 Select the full applications name click to bring up the Uninstall button

After un-installing / removing the applications you will still be left with your data files and any backups you may have made. This is to ensure you do not accidentally delete your records. Your records are too important to allow them to be removed through a simple un-install / re-install routine that many software users commonly perform.

If your absolutely sure you do not require your records contained in these data files go head and delete them using the file manager.