Order Guidance - registrating and obtaining your software unlock codes
QHSE Business Software
FREE Small Business QHSE Software
IMPORTANT ORDER INFORMATION - PLEASE READ

Our software has been designed for use with Windows Vista, Win 7, 8, 10 and 11 (XP Users see note below):

If you have not already downloaded your copy or our software, it can be obtained by following the links on our <download page>.

Our software programs can be used unregistered without restrictions. The program will request to be registered, this will not effect the programs functionality. Users wishing to register or remove the registration prompt will need to make a donation to obtain their unlock key. (see below) It normally takes 3 days to process an unlock code request, this can be speeded up for larger donations which take precedance over smaller ones.

After installation and upon loading the program a screen offering an 'installation padlock code' will be displayed. clicking ok will bypass this check with no restrictions (the unlock cide is needed only if you wish to donate and register the software). Please bear-in-mind this number is machine specific, so you need to ensure it is for the PC that the program will ultimately be used on, and not any PC or laptop that may be used for testing purposes.

WHEN REQUESTING AN UNLOCK KEY WE WILL REQUIRE THE FOLLOWING INFORMATION;
Proof of a donation made to support On Safe Lines

The Programs Installation Padlock Code (see example below)

E-mail address to forward un-lock code to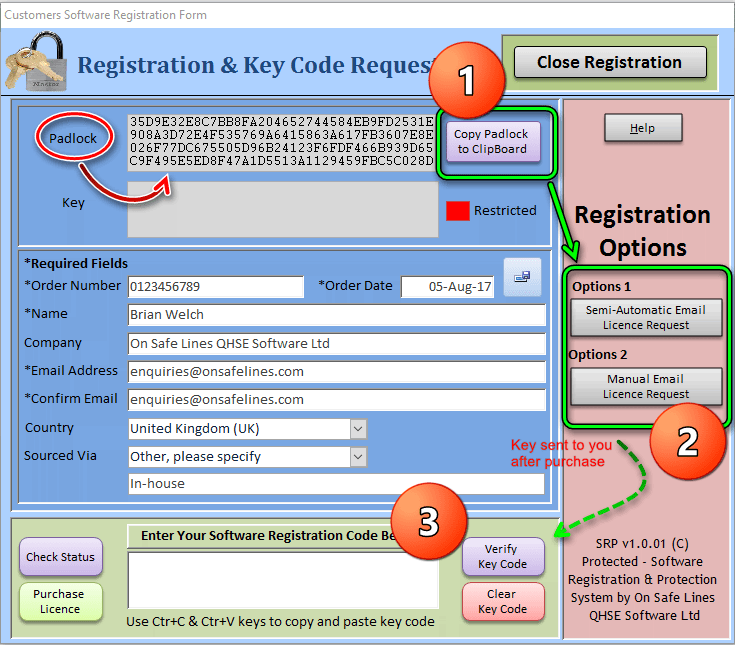 Please email these details to software-registration@onsafelines.com

Please also add admin@onsafelines.com to your e-mail contacts list, to ensure we can email you.

The unlock code will normally sent to the email address specified within 24/48 hours upon receipt of your 'padlock number', (work days). This time may increase during busy periods.

VERY IMPORTANT NOTE:

ONLY ONE UNLOCK CODE PER INSTALLATION CODE WILL BE ISSUED. SUBSEQUENT UNLOCK CODES WILL REQUIRE ADDITIONAL DONATIONS (ONE PER INSTALLATION). PLEASE ENSURE THE INSTALLATION CODE IS FOR THE PC / LAPTOP THE APPLICATION WILL BE RUN FROM

XP note: Our software will also work in Windows XP however, the user will need to perform some one time initial set-up routines which are managed automatically in later operating systems, this routine requires the user to locate 2 data containing files using the built- in semi-automated re-linking routine.