---
AIM Support - (Site Map) AIM > Accident Detailed Reports > > The number of accidents that require reporting to the government for national statistics purposes (and possible external investigation) is available via the statistics and analysis ribbon.
This report provides details of accidents that required to be reported under a country's governmental legislation. These tend to be the accidents that most companies will focus on in greater detail as they often result in visits by local authorities, etc.
Also see export to PDF or XPS; export to XLS
This report provides comprehensive details of reportable accidents and will allow management to accidents where external bodies may take an interest.
Pressing the Report Preview bring up the the associated report for the users selected criteria.
Zoomed Extract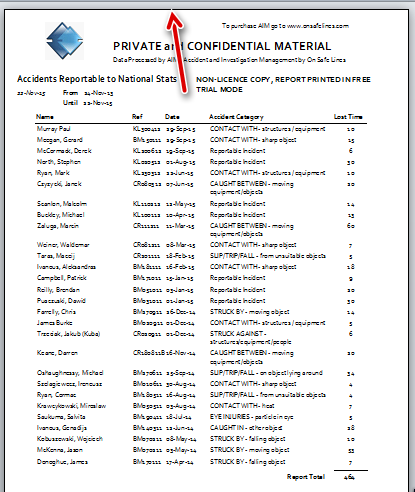 ---
On Safe Lines - Help file v9.000 : Copyright © 2020 On Safe Lines QHSE Software
---
FREEWARE QHSE Business Software
click <here> to learn more...

---