Tips and Tricks
Entering New Locations directly from master input form (p2)
Frequently when entering new documented information into the master input form you will find the location you require is not in the locations table. DIDS allows for new locations to be added on-the-fly.
In this example we need to issue a document to On Safe Lines Dover (OSLFLK), however the location is not yet available to select.
Click on the locations drop-down

Drop-box shows location OSLFLK is not available
Double clicking directly into the drop-box field brings up the check, asking if you wish to add the new location code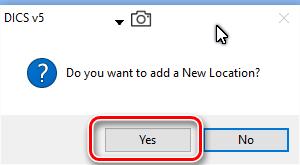 This loads the locations table ready to accept your new location details
Enter the location details
The drop-down box now shows the new location as being ready to select.
OSLFLK shown as selected

---
On Safe Lines QHSE Software Help file v5.0.09 : Copyright © 2019 Brian G. Welch
---
FREE to Try QHSE Business Software

click <here> to learn more...

---