Document Checks and Verification page 1
DICS has several ways to allow document controllers to carry of documentation Information verification / document checks.
To be able organisation to meet their documentation Information control requirements, of many quality, health and safety, environmental standards etc there will be a need to ensure documentation Information is where it's supposed to be.
The documentation Information verification / document checks form is available from the main DICS menu ribbon.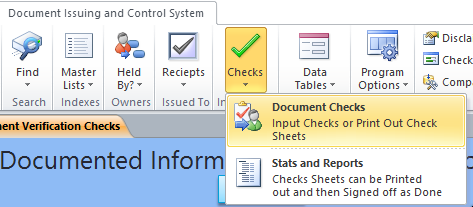 Documentation Information checks are normally a function of the quality department or a responsibility of the document controller. Document Verification / Document Checks normal involve a physical check of the document owners location to ensure such information as;
•Documentation Information available
•Documentation Information Issue Correct
•Old copies removed from use
•Documentation Information is legible
•Documentation Information has no un-authorised amendments
DISC offers document controllers a simple way to manage this requirement, with several reports and statistical tables to help to keep track of the current status and condition of controlled documents issued.

The Documented Information Verification Check input form allows;
•Filtering by Documentation Information Location
•Further Filter by Documentation Information Type
As well as recording
•Available Status
•Correct Issue
•Legible Status
•Un-authorised Alterations
•General Comments
Clicking on the Preview report brings up the record for the filtered criteria, this record can then be printed out and used to assist in the check or achieved as evidence of performance duties.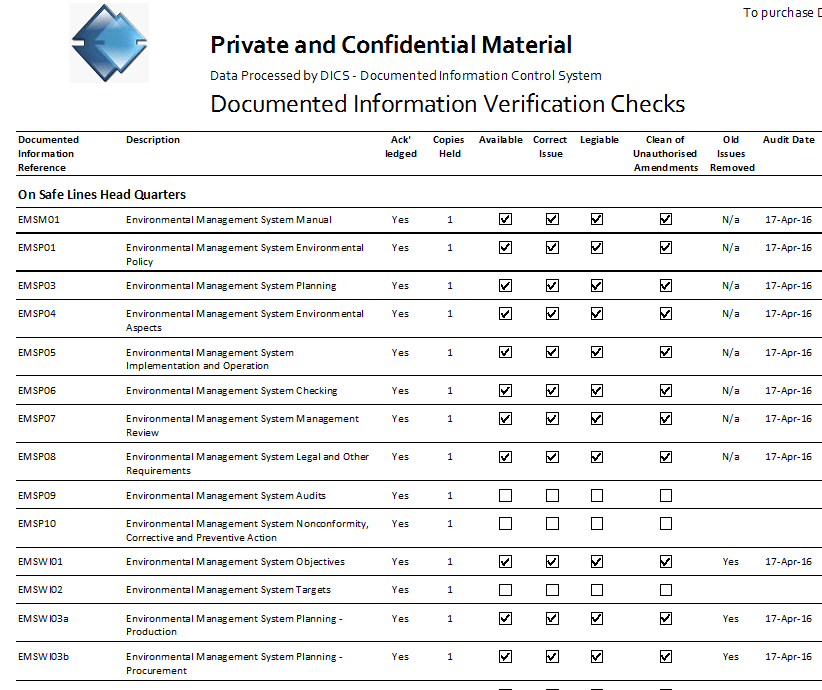 ---
On Safe Lines QHSE Software Help file v5.0.09 : Copyright © 2019 Brian G. Welch
---
FREE to Try QHSE Business Software

click <here> to learn more...

---