---
AIM Support - (Site Map) AIM > AIM in Compact Mode > > Also see Adding Attachments (Images and Picture)
AIM offers users the facility to add hyperlinks (such as e-mail addresses, web addresses and local files locations) to your reports.
Clicking the the Links button loads the Hyper-link form.
NOTE: Hyper-links are a very efficient way to links to your report as the attached fie is NOT embedded with the data container, merely the link, the downside of this is that links can change or be broken.
Hyper-links provide single-click access to Web pages through a URL (Uniform Resource Locator) or to files through a name in UNC (universal naming convention) format.
Used for storing links to files on:
•your computer (a file name);
•a network (a UNC name);
•the internet (a URL address).
A hyperlink entry contains three parts separated by hash signs (#).
The template is: display text # file name # any reference within the file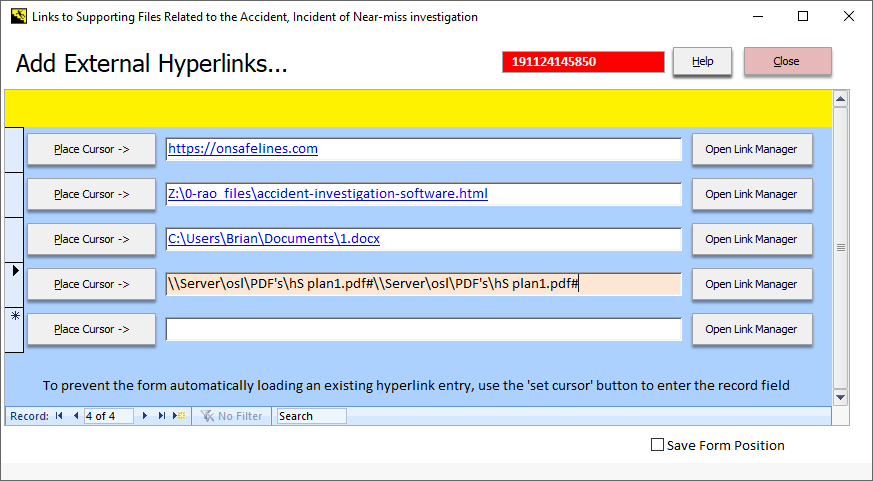 Opening the Links Manager allows you to browse and select your links.
Here are some examples of manual entries that may help show how this links works:
| | | |
| --- | --- | --- |
| Hyperlink Contents | Displays | When Clicked |
| My Photo #C:\MyPic\pic.bmp# | My photo | Loads picture into graphics package |
| SS TIRA#TIRA.xls#Sheet 1!C7 | SS AI | Loads spreadsheet into Excel, selecting cell C7. |
| Do AIM#\\bgw\pub\AIM.doc# | Do AIM | Loads the network document into word processor. |
| HSE#http://www.hse.gov.uk# | HSE | Loads your web browser and opens the URL. |
| #www.onsafelines.com# | www.onsafelines.com | Loads your web browser, assuming prefix of "http://". |
| | | |
| | | |
---
On Safe Lines - Help file v9.000 : Copyright © 2020 On Safe Lines QHSE Software
---
FREEWARE QHSE Business Software
click <here> to learn more...

---