---
AIM Support - (Site Map) AIM > Getting Started > > Important Information: Whilst there is no particular order to enter support data into AIM it is suggested that Locations, Grades and Reports To tables are populated prior to the employee / staff table. (also refer to AIM's flow diagram for a basic design input layout)
Locations Table
Next users should add is the various locations for their company(s) or their clients company(s) into the locations table. The locations table is available via the Company Structure ribbon button.
Simply add the various location for your company or clients set-up into the locations table, FIRE will automatically generate a unique ID reference number.
Careful consideration of the location structure in the early stages will prevent this table having to be reworked at a later stage; example which is a better, table 1 or table 2.
Table 1
Chandar
Therradale
Skalkwood
Halenshire
Table 2
CHD : Ground Floor Offices
CHD : Workshop A
CHD : Workshop B
CHD : Maintenance Workshop
THD : Shopfloor
THD : Dispatch Dept
THD : Stores
THD : Planners Offers
IMPORTANT NOTE: The drop-down boxes for the Drill Down search facility sort on a numerical / alphabetical order. Using a special character @&#([ etc., at the beginning of a field names, for example (CHD) Manager or #CHD Manager may cause the drill-down search to return incomplete records...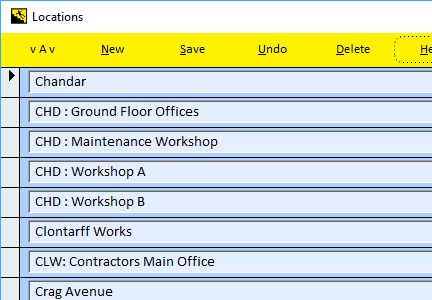 Important Information

The location recorded under an employees staff record is not related to the location recorded in an accident record, this as an accident can occur in many different locations. Therefore accident records may have two locations; 1. Staff place of employment,
2. Actual place of accident or incident.
---
On Safe Lines - Help file v9.000 : Copyright © 2020 On Safe Lines QHSE Software
---
FREEWARE QHSE Business Software
click <here> to learn more...

---