---
QHSE Support - (Site Map) AIM > Accident Statistical Reports > > AIM is distributed with several of the most popular reports that management request from their health and safety department. To ensure reports can be produced easily, and efficiently the Accident Report menu is a one stop shop. The user can choose from a range of standard reports by their required date range.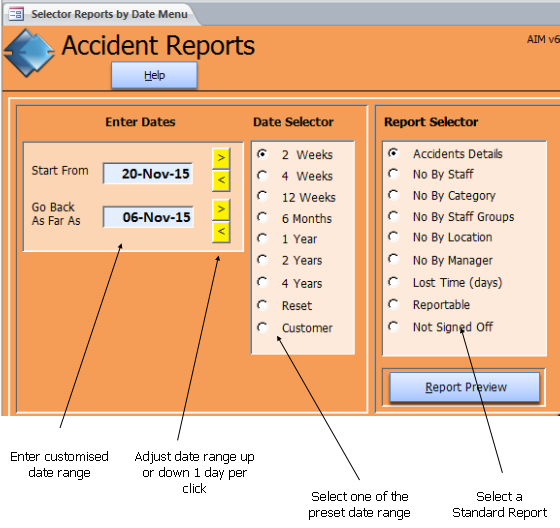 Brief Description of Standard Statistical Reports (click on link for further details)
1.Accident Details - Comprehensive report detailing accident and recommendations

2.Number By Staff - Statistical Data on Employee Accidents (will show those accident prone staff)

3.Number By Category - Statistical Data by Accident, Incident and Near-miss by classification

4.Number By Staff Group - Statistical Data by staff groups (which group of staff have the most accidents?)

5.Number By Locations - Statistical Data by location (which location has the worst accident record)

6.Number By Manager - Statistical Data by (which managers staff are the most accident prone)

7.Lost Time - Statistical Data by the number of lost days

8.Report to National Statistics - Statistical Data by accidents that are required to be reported to government
---
On Safe Lines - Help file v8.4.01.04 : Copyright © 2020 On Safe Lines QHSE Software
---
FREE to Try QHSE Business Software
click <here> to learn more...

---