Adding Documentation Types
Document types refer to the general classification that most companies would group their documented Information into. For example, in a Quality Management System you would typically have four to five tier structure; Quality Manual, Quality Procedures, Quality Instructions, Quality Forms, etc.
Also see importing Documentation Types in to DICS
The Document Types table is available via the Data Tables Tab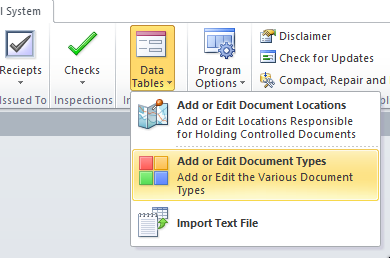 Once the document types are entered, they became available to use in the master document input form via a drop down selection box. This means the more DICS is used the more efficient the program becomes.
Note:
Update and amendment - All changes made to this table will be cascaded to ALL related records, allowing for one-time edit and updates.
Deletion Warning - This operation Will remove ALL records of the specified document type issued from ALL location.
To delete an individual document from ALL locations, please use the delete button on the master input form.
---
On Safe Lines QHSE Software Help file v5.0.09 : Copyright © 2019 Brian G. Welch
---
FREE to Try QHSE Business Software

click <here> to learn more...

---